In Memory
Claude Pickett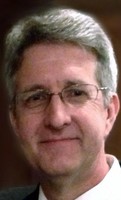 Claude Malcolm Pickett was born Oct. 8, 1957, in Phoenix, Ariz., to Robert Gene Pickett and Ann Genaux Pickett. On Nov. 25, 2015, he was called to heaven after a brief bout with a fast-moving cancer. He passed peacefully at his home in Boise, Idaho.
Claude was named after his grandfather, Claude Newton Pickett. His early childhood was spent in Phoenix until a move to Montana. After living in Montana for about a year, the family moved to La Grande, Ore., in 1964.
Claude graduated from La Grande High School in 1976 and attended Eastern Oregon State College for a time. He then moved to Boise to pursue a degree in social work at Boise State University. He graduated in 1980 with a Bachelor of Art degree in social work. Later, he continued his education with graduate classes there.
Claude worked in the same career field for most of his life. He worked in group homes for mentally handicapped individuals and became a supervisor, then the program director. He worked most of his adult life for Boise Group Homes and then later Idaho Falls Group Homes. He held various consulting positions and was an expert in his field.
Claude will be remembered for the patience and assistance he provided to enrich so many handicapped individuals lives, always providing for them the care and dignity they deserved. Also, to the staff he supervised, he provided an insight that not only helped in their work performance but also in their personal relationships.
He had two children, Trevor and Makenna, from his marriage to Marla Pickett Stith. Most of all, Claude can be commended for his love of his children and the relationship he developed with his savior Jesus in his later life.
Claude is survived by his children, Trevor and Makenna Pickett, and their mother, Marla of Boise; his mother, Ann Pickett of Boise; and siblings, Charles Pickett of Independence, Mo., Angela Bey of Mount Vernon, Wash., and Kathleen Anderson of Boise.
Claude was preceded in death by his father, Robert Pickett in 2013, and baby sister, Eileen, who died shortly after her birth in 1960.
Claude was a beloved father, son, brother and friend, and he will be greatly missed by all who knew him.
A private family service will be held Saturday, Dec. 5, at Relyea Funeral Chapel.