La Grande

High School




Class Of 1976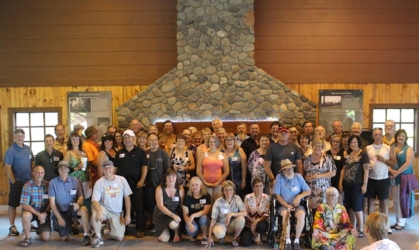 photo taken during Friday night dinner held at Pioneer Park Pavillion July 29, 2016
Please join us for the combined
LHS 1975 – 1976 Class Reunion
**** Friday – August 20, 2021 @ Riverside Park Pavilion
Meet and Greet – Snacks provided / No-Host Bar
4 to 9 PM La Grande
**** Saturday – August 21, 2021 @ White Barn Estate
62788 Hunter Rd, La Grande
Dinner and Socializing - 5 to 10 PM
*SEE ANNOUNCMENT BELOW**
For information
-------------------------------------------------------------------------------------------------------------------------------------------------------------
Take a tour and add your pictures and information.
If you're in contact with any of our classmates not on the active list, send them an email and let them know about the web site or... send their email information to Kevin Charlton, Lonni (Wickam)Haggerty or Don Beith and we will send a formal email from Class Creator

.
---
IF YOU HAVE QUESTIONS, SEND US AN EMAIL. THANKS
---
---
You can run but you can't hide! Your Class photos are now part of your profile. Please pass the word to all the missing class members to sign up at lagrande76.com.
---
---
WE NEED HELP finding classmates and in getting the word out about this web site. Please help spread the word. If they can not sign up then get mailing address and phone number and send them to us and we will contact them and help create a profile for them.
Thank you for your help, it will take all of us to keep the information on this web site current.
ANNOUNCEMENTS
•

Who: We want you to join us!!

What: LHS Class of 1975 and 1976 – 45th+ reunion

When: August 20-21, 2021

Where: Riverside Park Pavilion (8/20/21 - 4 to 9 PM) finger foods, no host beverage bar

The White Barn (8/21/21 – 5 to 10 PM) dinner – no host beverage bar

Why: To Celebrate our 45th and 46th Class Reunion with Friends

Costs: $50 per person covers both nights

*Send Payments to:

Checks – c/o LHS Reunion 1975-76, PO Box 1271, La Grande, OR 97850

Venmo - @Lonni-Haggerty

*Please RSVP by August 1, 2021 for caterer head count.

**After August 1, 2021 cost is $65 per person